Professeur
- Ecole Nationale Supérieure des Mines d'Albi-Carmaux (
IMT Mines Albi
)
Membre du groupe
Surfaces, Usinages, Matériaux et Outillages
(
SUMO
)
1M13, Mines d'Albi-Carmaux, Campus Jarlard
81013 Albi

philippe.lours@mines-albi.fr
(recherche)
Activités de recherche :
Ingénieur INSA Physique des Matériaux – Dipl. Eng. INSA Physics of Materials
DEA de Physique des solides – MSc Solid State Physics
Docteur de l'Université Paul Sabatier Université de Toulouse – PhD
Post-Doctoral fellow at Lawrence Berkeley Laboratory (University of California at Berkeley)
HDR (Ability for Supervising Research) de l'Institut National Polytechnique de Toulouse –
Chevalier dans l'ordre des Palmes Académiques
• relations microstructures – propriétés d'usage des métaux, des alliages métalliques et des revêtements
relationships between microstructure and engineering properties of metal alloys and coatings
• durabilité et endommagement des oxydes et des barrières thermiques, ingéniérie des surfaces
durability and degradation of oxides and thermal barrier coatings, surface engineering
•plasticité des superalliages et des alliages d'aluminium
plasticity of superalloys and aluminum alloys
• matériaux pour applications aérospatiales
materials for aerospace applications
Activités d'enseignement :
Créateur de l'option "Matériaux pour l'Aéronautique et le Spatial" [ingénieur Mines-Albi – Master 2]
founder of Master program "Materials for aerospace applications"
Créateur du domaine "Ingénierie des Matériaux Avancés & des Structures" [ingénieur Mines-Albi – Master 1&2]
founder of Master program "Advanced Materials and Mechanical Engineering"
Créateur et responsable du Master International AeroMat-Innovation
Founder and Head of International MSc AeroMat-Innovation

Adjunct Professor at University Indonesia  (Jakarta) (appointed 2016)
Visiting Professor at Civil Aviation University of China (CAUC Tianjin) (appointed 2020)
Responsabilités collectives :
DIRECTOR of the INTERNATIONAL AFFAIRS at IMT MINES ALBI
HEAD of MSc AeroMat-Innovation
Autre :
Biography :
Philippe Lours is Professor at Mines Albi. He is Director of the International Affairs at Mines Albi and Head of the International Master program AeroMat-Innovation in partnership with IMT Business School (Paris-Evry).
He has been appointed Adjunct-Professor at Universitas Indonesia (Jakarta) in june 2016 and Visiting-Professor of the Civil Aviation University of China (CAUC Tianjin) in september 2020.
HDR of the National Polytechnic Institute of Toulouse, Philippe Lours is part of the board of the PhD School "Aeronautics & Astronautics" and was awarded the rank of "chevalier dans l'ordre des palmes académiques" in 2009.
Philippe Lours conducts research and teaching at IMT Mines Albi – University of Toulouse since 1995. He is also Invited Professor at ISAE – Supaéro (Institut Supérieur de l'Aéronautique et de l'Espace – Supaéro), at the Université Paul Sabatier de Toulouse, at the University of Transports and Communications Hanoi, the Hanoi University of Science and Technology (Vietnam), Changwon National University (South Korea).
He has been lecturing in several universities over the world, including the University of California at Berkeley (1990), Ecole Polytechnique de Montréal (1993), Université Joseph Fourier Grenoble (1998), Toyohashi University of Technology – Japan (2002), Dalian Maritime University – China (2004), Universitatea Dunarea de Jos – Galati Romania (2000-2005), the University of Science & Technology Hanoi – USTH (2013),  Institut Teknologi Bandung ITB Indonesia (2016).
Graduated in Materials Science & Engineering and in Solid State Physics at INSA (Institut National des Sciences Appliquées – 1986), Philippe Lours defended his doctoral thesis on the plasticity of single crystalline nickel based superalloys investigated by In Situ Transmission Electron Microscopy in 1989 at Université Paul Sabatier – University of Toulouse. After a postdoctoral fellowhip at the Lawrence Berkeley Lab. (Berkeley, USA) where he further specialised in Transmission Electron Microscopy including High Resolution and High Voltage TEM, he has held several positions of R & D engineer, process engineer and project engineer in the metal alloys industry in Toulouse, France & Orangeburg, New York-USA (sputtering targets) and Montreal, Québec-Canada (shape memory alloys).
Full Professor at Mines Albi where he has successively founded the Master programs "Materials for Aeronautics & Space" in 2003, and "Advanced Materials & Mechanical Engineering" in 2010. He is now head of the newly launched International Master AeroMat-Innovation for which he established a partnership with IMT Business School in Paris-Evry. Author of 56 articles in international journals with peer review and book chapter, Philippe Lours has contributed to more than 70 national and international conferences. He is former director of the research team PUMMA (Enginering Properties & Microstructure of Advanced Materials) at Institut Clément Ader. Director, co-director or supervisor of about twenty PhD students, his research focusses on the relationship between the microstructure and the engineering properties of metallic materials and coatings with a particular attention on high temperature materials for aerospace applications (superalloys and thermal barrier coatings).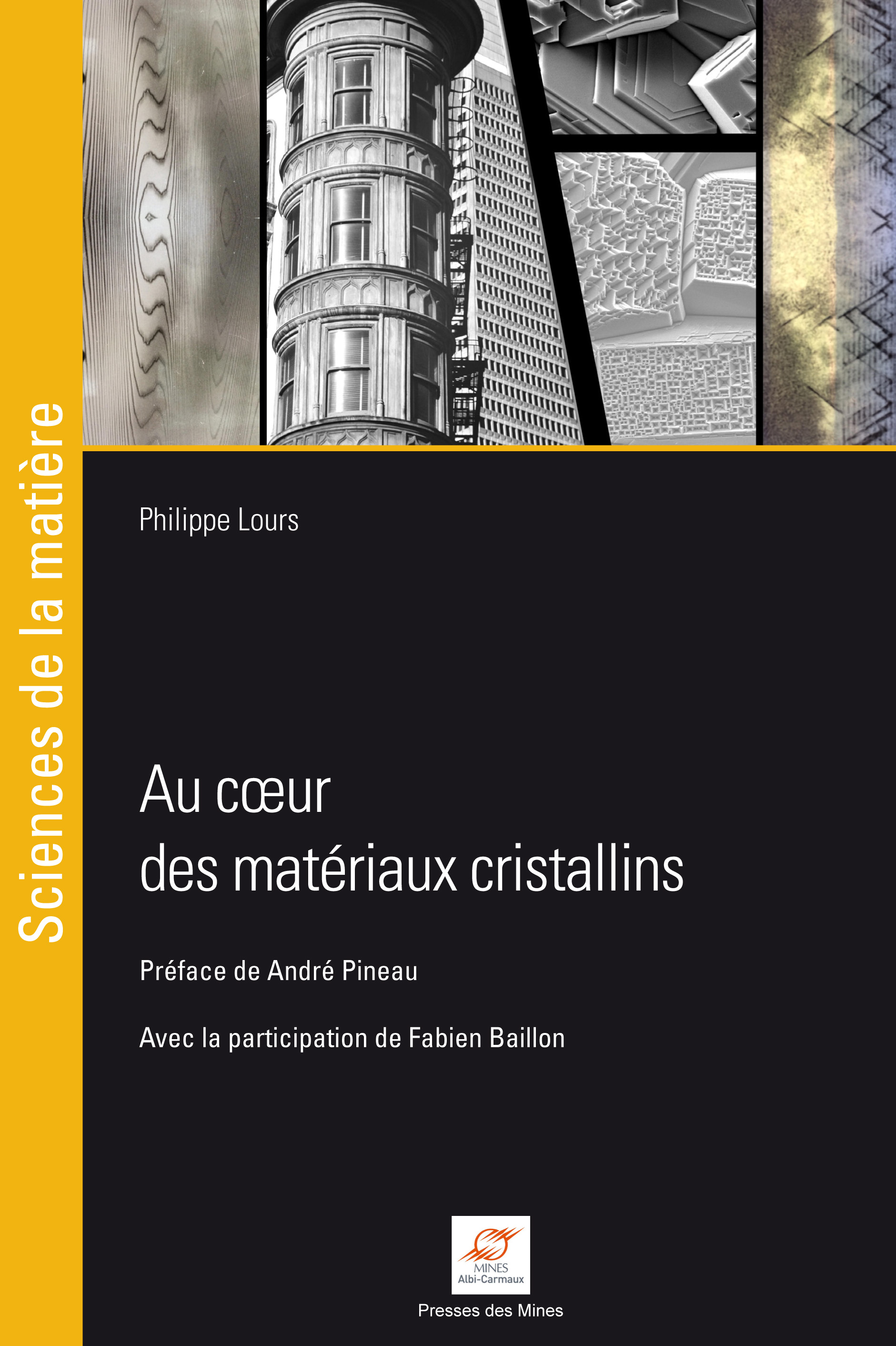 Production scientifique :
109 contributions trouvées
| Année | Type | Auteurs et titre du document | Liens |
| --- | --- | --- | --- |
| 2021 | ACL | Damien Texier, Maxime Ecochard, Thomas Gheno, Daniel Monceau, Mehdi Salem, Philippe Lours. Screening for Al2O3 failure in MCrAlY APS coatings using short-term oxidation at high temperature. Corrosion Science, Elsevier, 184, p.1-15/109334 | [HAL] / [BIB] / [DOI] |
| 2021 | ACL | Mathieu Terner, Jiwon Lee, Baptiste Ruggieri, Etienne Copin, Oxana Ostrovskaya, Claudio Badini, Philippe Lours, Hyun-Uk Hong. Thermal shock resistance of a NiCrAlY-coated alloy 625 system produced by laser powder bed fusion. Surface and Coatings Technology, Elsevier, 417, p.1-14/127217 | [HAL] / [BIB] / [DOI] |
| 2020 | ACL | Jiwon Lee, Mathieu Terner, Sunyoung Jun, Hyun-Uk Hong, Etienne Copin, Philippe Lours. Heat treatments design for superior high-temperature tensile properties of alloy 625 produced by Selective Laser Melting. Materials Science and Engineering: A, Elsevier, 790, p.1-15/139720 | [HAL] / [BIB] / [DOI] |
| 2020 | ACL | Damien Texier, Etienne Copin, Augustin Flores, Jiwon Lee, Mathieu Terner, Hyun-Uk Hong, Philippe Lours. High temperature oxidation of NiCrAlY coated Alloy 625 manufactured by selective laser melting. Surface and Coatings Technology, Elsevier, 398, p.1-14/126041 | [HAL] / [BIB] / [DOI] |
| 2020 | ACL | Jiwon Lee, Mathieu Terner, Etienne Copin, Philippe Lours, Hyun-Uk Hong. A novel approach to the production of NiCrAlY bond coat onto IN625 superalloy by selective laser melting. Additive Manufacturing, Elsevier, 31, p.1-8/100998 | [HAL] / [BIB] / [DOI] |
| 2020 | ACL | Yankuan Liu, Etienne Copin, Sandrine Duluard, Thierry Sentenac, Zhiping Wang, Florence Ansart, Philippe Lours. Apparent Interfacial Toughness of Undoped and Photoluminescent Eu3+-Doped Yttria-Stabilized Zirconia Thermal Barrier Coatings. Journal of Thermal Spray Technology, ASM International/Springer, 29, p.433-443 | [HAL] / [BIB] / [DOI] |
| 2018 | COM | Etienne Copin, Stéphane Amiel, Thierry Sentenac, Yannick Le Maoult, Philippe Lours, Florence Ansart. Marqueur photoluminescent pour le diagnostic de l'histoire thermique à haute température. Photoluminescent marker for high temperature thermal history sensing. Optique Toulouse 2018 - Congrès de la société française d'optique, Toulouse, FR | [HAL] / [BIB] |
| 2018 | ACL | Stéphane Amiel, Etienne Copin, Thierry Sentenac, Philippe Lours, Yannick Le Maoult. On the thermal sensitivity and resolution of a YSZ:Er 3+ /YSZ:Eu 3+ fluorescent thermal history sensor. Sensors and Actuators A: Physical, Elsevier, 272, p.42-52 | [HAL] / [BIB] / [DOI] |
| 2018 | ACL | Fabien Blas, Florence Ansart, Philippe Lours, Jean-Pierre Bonino, Sandrine Duluard, Vanessa Vidal, Lisa Pin, Guillaume Pujol, Luiza Bonin. Processing thermal barrier coatings via sol-gel route: crack network control and durability. Surface and Coatings Technology, Elsevier, 334, p.71-77 | [HAL] / [BIB] / [DOI] |
| 2017 | ACL | Pierre Planques, Vanessa Vidal, Philippe Lours, Vincent Proton, Fabrice Crabos, Julitte Huez, Bernard Viguier. Characterization of the mechanical properties of thermal barrier coatings by 3 points bending tests and modified small punch tests. Surface and Coatings Technology, Elsevier, 332, p.40-46 | [HAL] / [BIB] / [DOI] |
| 2017 | ACL | Pierre Planques, Vanessa Vidal, Philippe Lours, Vincent Proton, Fabrice Crabos, Julitte Huez, Bernard Viguier. Mechanical and thermo-physical properties of plasma-sprayed thermal barrier coatings: a literature survey. Oxidation of Metals, Springer Verlag, vol. 88(n° 1-2), p.133-143 | [HAL] / [BIB] / [DOI] |
| 2017 | COM | Pierre Planques, Vanessa Vidal, Philippe Lours, Vincent Proton, Fabrice Crabos, Julitte Huez, Bernard Viguier. Mechanical properties of yttria-stabilised-zirconia for thermal barrier coating systems : effects of testing procedure and thermal aging. ITSC 2017 - International Thermal Spray Conference and Exposition, 336, p.302-307, Dusseldorf, DE | [HAL] / [BIB] |
| 2017 | ACL | Yankuan Liu, Yinghui Liu, Philippe Lours, Thierry Sentenac, Vanessa Vidal, Zhiping Wang, Kunying Ding. Influence of isothermal aging conditions on APS TBC's interfacial fracture toughness. Surface and Coatings Technology, Elsevier, 313, p.417-424 | [HAL] / [BIB] / [DOI] |
| 2017 | ACL | Etienne Copin, X. Massol, Stéphane Amiel, Thierry Sentenac, Yannick Le Maoult, Philippe Lours. Novel erbia-yttria co-doped zirconia fluorescent thermal history sensor. Smart Materials and Structures, IOP Publishing, 26(1), art. 015001-11 p. | [HAL] / [BIB] / [DOI] |
| 2016 | COM | Stéphane Amiel, Etienne Copin, Thierry Sentenac, Yannick Le Maoult, Philippe Lours. Caractérisation de marqueurs photoluminescents de l'histoire thermique. SFT 2016 - Congrès annuel de la Société Française de Thermique, 8 p., Toulouse, FR | [HAL] / [BIB] |
| 2016 | P | Amiel Stéphane, Etienne Copin, Thierry Sentenac, Yannick Le Maoult, Philippe Lours. Caractérisation de marqueurs de l'histoire thermique photoluminescents. Congrès Français de Thermique 2016, 31 Mai – 3 Juin 2016, Toulouse, Toulouse, FR | [HAL] / [BIB] |
| 2016 | P | Etienne Copin, Thierry Sentenac, Yannick Le Maoult, Philippe Lours. Fonctionnalisation de barrières thermiques sol-gel YSZ pour la mesure de température et le CND par fluorescence. 6e colloque de l'Institut Mines-Télécom « Matériaux : réalités et nouvelles frontières», 30-31 Mars 2016, Paris, Paris, FR | [HAL] / [BIB] |
| 2016 | O | Philippe Lours. Au coeur des matériaux cristallins. 217 p. | [HAL] / [BIB] |
| 2015 | ACL | Y. Liu, Vanessa Vidal, Sabine Le Roux, Fabien Blas, Florence Ansart, Philippe Lours. Influence of isothermal and cyclic oxidation on the apparent interfacial toughness in thermal barrier coating systems. Journal of the European Ceramic Society, Elsevier, 35(15), p. 4269-4275 | [HAL] / [BIB] / [DOI] |
| 2015 | ACL | Sabine Le Roux, Frédéric Deschaux-Beaume, Thierry Cutard, Philippe Lours. Quantitative assessment of the interfacial roughness in multi-layered materials using image analysis: Application to oxidation in ceramic-based materials. Journal of the European Ceramic Society, Elsevier, 35(3), p.1063-1079 | [HAL] / [BIB] / [DOI] |
| 2014 | ACL | Etienne Copin, Thierry Sentenac, Yannick Le Maoult, Fabien Blas, Florence Ansart, Vanessa Vidal, Philippe Lours. Feasibility of luminescent multilayer sol-gel thermal barrier coating manufacturing for future applications in through-thickness temperature gradient sensing. Surface and Coatings Technology, Elsevier, vol. 260, pp. 90-96 | [HAL] / [BIB] / [DOI] |
| 2014 | COM | Etienne Copin, Yannick Le Maoult, Thierry Sentenac, Fabien Blas, Thi Hoai Giang Tran, Philippe Lours. Comparison of IR thermography and photoluminescence for early diagnostic of spallation and temperature sensing in thermal barrier coatings. 12th International conference on Quantitative Infrared Thermography, 9 p., Bordeaux, FR | [HAL] / [BIB] / [DOI] |
| 2014 | ACL | Lisa Pin, Vanessa Vidal, Fabien Blas, Florence Ansart, Sandrine Duluard, Jean-Pierre Bonino, Yannick Le Maoult, Philippe Lours. Optimized sol–gel thermal barrier coatings for long-term cyclic oxidation life. Journal of the European Ceramic Society, Elsevier, vol. 34(n° 4), pp. 961-974 | [HAL] / [BIB] / [DOI] |
| 2014 | COM | F. Blas, Florence Ansart, Philippe Lours, J.-P. Bonino, S. Duluard, Vanessa Vidal, L. Pin. Microstructural control of new generation thermal barrier coatings via a sol-gel route : cyclic oxidation behaviour. Thermal Barrier Coatings IV - An ECI Conference Series - Irsee - Germany - June 2014, Irsee, DE | [HAL] / [BIB] |
| 2014 | COM | Etienne Copin, Thierry Sentenac, Yannick Le Maoult, F. Blas, Florence Ansart, Philippe Lours. Feasibility of multilayer sol-­gel thermal barrier coating manufacturing for through thickness temperature gradient sensing. 41st International Conference on Metallurgical Coatings and Thin Films 2014 (ICMCTF), 27 Avril – 2 Mai 2014, San Diego (USA), San Diego, US | [HAL] / [BIB] |
| 2013 | ACL | Lisa Pin, Christopher Pilgrim, Jörg Feist, Yannick Le Maoult, Florence Ansart, Philippe Lours. Characterisation of thermal barrier sensor coatings synthesised by sol–gel route. Sensors and Actuators A: Physical, Elsevier, vol. 199, pp. 289-296 | [HAL] / [BIB] / [DOI] |
| 2013 | ACL | Lisa Pin, Florence Ansart, Jean-Pierre Bonino, Yannick Le Maoult, Vanessa Vidal, Philippe Lours. Reinforced sol-gel thermal barrier coatings and their cyclic oxidation life. Journal of the European Ceramic Society, Elsevier, vol. 33, pp. 269-276 | [HAL] / [BIB] / [DOI] |
| 2013 | ACL | Arnaud Duchosal, Frédéric Deschaux-Beaume, Philippe Lours, Sergio Haro, Gilles Fras. Analysis of weld-cracking and improvement of the weld-repair process of superplastic forming tools. Materials and Design, Elsevier, 46, p.731-739 | [HAL] / [BIB] / [DOI] |
| 2012 | ACL | M. Cusick, F. Abu-Farha, Philippe Lours, Yannick Le Maoult, Gérard Bernhart, M. Khraisheh. Superplastic forming of AZ31 magnesium alloy with controlled microstructure. Materials Science and Engineering Technology / Materialwissenschaft und Werkstofftechnik, Wiley-VCH Verlag, 43(9, SI), p.810-816 | [HAL] / [BIB] / [DOI] |
| 2012 | COM | C. Bellot, F. Taina, E. Cabrol, C. Carniel, P. Lamesle, Philippe Lours. Nouvelle technique de caractérisation physico-chimique des alliages à durcissement structural. Journées d'Automne de la SF2M, Paris, FR | [HAL] / [BIB] |
| 2011 | ACL | Lisa Pin, Florence Ansart, Jean-Pierre Bonino, Yannick Le Maoult, Vanessa Vidal, Philippe Lours. Processing, repairing and cyclic oxidation behaviour of sol-gel thermal barrier coatings. Surface and Coatings Technology, Elsevier, vol. 206, pp. 1609-1614 | [HAL] / [BIB] / [DOI] |
| 2011 | COM | Yannick Balcaen, Vanessa Vidal, Vincent Velay, Laurent Robert, Philippe Lours, Florence Pettinari-Sturmel, Joël Douin. Comparative Study, in Pure Titanium Sheet, of the Microstructural Evolution Induced by Incremental Forming Process and Plane Strain Tensile Tests. Ti 2011 - 12th World conference on titanium, 2, p.1148-1151, Beijing, CN | [HAL] / [BIB] |
| 2011 | COM | Vanessa Vidal, Yannick Balcaen, Florence Pettinari-Sturmel, Joël Douin, Philippe Lours, Vincent Velay, Laurent Robert. Experimental Study of the Deformation Mechanisms in Textured Alpha-titanium Alloy Sheets. Ti 2011 - 12th World conference on titanium, p.1290-1293, Beijing, CN | [HAL] / [BIB] |
| 2011 | COM | Inès Souki, Denis Delagnes, Philippe Lours. Influence of heat treatment on the fracture toughness and crack propagation in 5% Cr martensitic steel. ICM 11 - 11th International conference on the mechanical behavior of materials, 10, p.631-637, Como, IT | [HAL] / [BIB] / [DOI] |
| 2011 | COM | Y. Balcaen, L. Robert, Vincent Velay, Vanessa Vidal, Philippe Lours. Accurate strain analysis of Titanium sheet in single point incremental forming process by digital image correlation. Photomechanics 2011, Brussels, Belgium, february, Brussels, BE | [HAL] / [BIB] |
| 2011 | ACL | Julien Sniezewski, Philippe Lours, Yannick Le Maoult. Buckling and spalling failure of alumina grown by oxidation on ODS FeCrAl alloys. Materials at High Temperatures, Taylor and Francis, 28(1), p.17-20 | [HAL] / [BIB] / [DOI] |
| 2011 | CO | Gérard Bernhart, Philippe Lours, Thierry Cutard, Vincent Velay, Fabien Nazaret. Processes and equipment for superplastic forming of metals. p.49-71 | [HAL] / [BIB] / [DOI] |
| 2010 | ACL | Julien Sniezewski, Yannick Le Maoult, Philippe Lours, Lisa Pin, Vincent Menvie Bekale, Daniel Monceau, Djar Oquab, Justine Fenech, Florence Ansart, Jean-Pierre Bonino. Sol–gel thermal barrier coatings: Optimization of the manufacturing route and durability under cyclic oxidation. Surface and Coatings Technology, Elsevier, vol. 205(n° 5), pp. 1256-1261 | [HAL] / [BIB] / [DOI] |
| 2010 | COM | Lisa Pin, Florence Ansart, Philippe Lours, Julien Sniezewski, Justine Fenech, Jean Pierre Bonino, Yannick Le Maoult. Caractérisation du comportement en oxydation cyclique de barrières thermiques élaborées par voie sol-gel. Matériaux 2010, 6 p., Nantes, FR | [HAL] / [BIB] |
| 2010 | COM | Inès Souki, Denis Delagnes, Philippe Lours. Influence du traitement thermique sur la ténacité et la propagation de fissures pour l'acier à 5% Cr. Matériaux 2010, 13 p., Nantes, FR | [HAL] / [BIB] |
| 2010 | COM | Fabio Taina, Marco Pasqualon, Vincent Velay, Denis Delagnes, Philippe Lours. Effect of the LCF loading cycle characteristics on the fatigue life of inconel 718 at high temperature. 7th International symposium on superalloy 718 and derivatives, p.893-905, Pittsburgh, US | [HAL] / [BIB] |
| 2010 | ACL | Julien Sniezewski, Yannick Le Maoult, Philippe Lours. Oxidation and spallation of FeCrAl alloys and thermal barrier coatings: in situ investigation under controlled temperature gradient. Materials at High Temperatures, Taylor and Francis, 27(2), p.101-108 | [HAL] / [BIB] / [DOI] |
| 2010 | P | Y. Balcaen, N. Decultot, Vanessa Vidal, Vincent Velay, L. Robert, Philippe Lours. Étude des mécanismes de déformation en formage incrémental. Colloque Plasticité 2010, Toulouse, FR | [HAL] / [BIB] |
| 2010 | ACL | Lisa Pin, Florence Ansart, Justine Fenech, Philippe Lours, Jean Pierre Bonino, Julien Sniezewski, Yannick Le Maoult. Advances in the field of new smart thermal barrier coatings. Advances in Science and Technology, 66, p.136-141 | [HAL] / [BIB] |
| 2009 | ACL | Qi Yuhong, Philippe Lours, Yannick Le Maoult, Zhang Zongbao. Spallation Behavior of Thermally Grown Oxide Ceramic Film under Compressive Stresses. Rare Metal Materials and Engineering, 38(2), p.1150-1153 | [HAL] / [BIB] |
| 2009 | ACL | Julien Sniezewski, Vanessa Vidal, Philippe Lours, Yannick Le Maoult. Thermal barrier coatings adherence and spallation: Interfacial indentation resistance and cyclic oxidation behaviour under thermal gradient. Surface and Coatings Technology, Elsevier, 204(6-7), p.807-811 | [HAL] / [BIB] / [DOI] |
| 2009 | ACL | Qi Yu-Hong, Philippe Lours, Yannick Le Maoult. Spallation Process of Thermally Grown Oxides by In-Situ CCD Monitoring Technique. Journal of Iron and Steel Research, International, Elsevier, 16(6), p.90-94 | [HAL] / [BIB] / [DOI] |
| 2009 | COM | Gérard Bernhart, Vincent Velay, Philippe Lours. Heat Resistant Ni-Cr-Fe Steels for Superplastic Forming Dies: From Material Microstructure to Die Design. ICSAM 2009 - 10th International Conference on Superplasticity in Advanced Materials, 433, p.77-84, Seattle, US | [HAL] / [BIB] / [DOI] |
| 2009 | COM | J. Sniezewski, Vanessa Vidal, Yannick Le Maoult, Philippe Lours. In situ and ex situ investigation of thermal barrier coating adherence and spallation. EUROCORR 2009 – The European Corrosion Congress - EFC Event n°310 - Nice, France, September 2009, Nice, FR | [HAL] / [BIB] |
| 2009 | ACL | Traian Branza, Frederic Deschaux-Beaume, P. Velay, Philippe Lours. A microstructural and low-cyle fatigue investigation of weld-repaired heat-resistant cast steels. Journal of Materials Processing Technology, Elsevier, 209, p.944-953 | [HAL] / [BIB] / [DOI] |
| 2009 | ACL | Traian Branza, Frederic Deschaux-Beaume, G. Sierra, Philippe Lours. Study and prevention of cracking during weld-repair of heat-resistant cast steels. Journal of Materials Processing Technology, Elsevier, 209, p.536-547 | [HAL] / [BIB] / [DOI] |
| 2009 | ACL | Traian Branza, F. Deschaux-Beaume, Vincent Velay, Philippe Lours. A microstructural and low-cycle fatigue investigation of weld-repaired heat-resistant cast steels. Journal of Materials Processing Technology, Elsevier, 209(2), p.944-953 | [HAL] / [BIB] / [DOI] |
| 2008 | COM | M. Cusick, F. Abu-Farha, Philippe Lours, Yannick Le Maoult, Gérard Bernhart, M. Khraisheh. TOWARDS SUPERPLASTIC FORMING OF AZ31 MAGNESIUM ALLOY WITH CONTROLLED MICROSTRUCTURE. EuroSPF 2008, Carcassonne, FR | [HAL] / [BIB] |
| 2008 | COM | Julien Sniezewski, Yannick Le Maoult, Philippe Lours. In situ thermal gradient controlled investigation of spallation - Experimental design and preliminary results. HTCPM 2008 -7th International Symposium on High Temperature Corrosion and Protection of Materials, Vols. 595-598, p.1135-1143, Les Embiez, FR | [HAL] / [BIB] / [DOI] |
| 2008 | ACL | Emilie Herny, Philippe Lours, Eric Andrieu, Jean-Marc Cloué, Philippe Lagain. Evolution of microstructure and impact-strength energy in thermally and thermomechanically aged 15-5 PH. Proceedings of the Institution of Mechanical Engineers, Part L: Journal of Materials: Design and Applications, SAGE Publications, vol. 222(n° 4), p.299-304 | [HAL] / [BIB] |
| 2008 | INV | Philippe Lours, Traian Branza, Frederic Deschaux-Beaume. Weld-repair of heat resistant cast steels for SFP dies. 6th European Conference on superplastic forming Euro SFP08, Carcassonne, FR | [HAL] / [BIB] |
| 2008 | ACL | Philippe Lours, Julien Sniezewski, Yannick Le Maoult, Bernard Pieraggi. Direct obervations and analysis of the spallation of alumina scales grown on PM2000 alloy. MATERIALS SCIENCE AND ENGINEERING. A, STRUCTURAL MATERIALS, 480(n°1-2), p.40-48 | [HAL] / [BIB] / [DOI] |
| 2008 | ACL | Arnaud Duchosal, Frederic Deschaux-Beaume, Cyril Bordreuil, Gilles Fras, Philippe Lours. Method for predicting risk of cracking during weld repair of heat resistant cast steels. Science and Technology of Welding and Joining, Maney Publishing, 13, p.126-135 | [HAL] / [BIB] / [DOI] |
| 2007 | COM | Abdelaziz Sellidj, Soltane Lebaili, Philippe Lours. Vieillissement d'un dépôt d'alliage de type Stelitte F durant des recuits à haute température. JP 2007 -26èmes Journées de printemps, p.231-238, Paris, FR | [HAL] / [BIB] |
| 2006 | COM | Julien Sniezewski, Philippe Lours, Yannick Le Maoult. Etude in-situ de l'écaillage des couches d'oxydes de l'alliage PM 2000. Matériaux 2006, 10 p., Dijon, FR | [HAL] / [BIB] |
| 2006 | COM | Emilie Herny, M. C. Lafont, Eric Andrieu, Philippe Lours, Philippe Lagain, Jean Marc Cloue. Evolution of the mechanical properties of two precipitation hardening stainless steels after ageing at 400°C comparison between 15-5PH and 13-8PH. 3rd Conference on uses of steel, p.201-210, Buenos Aires, AR | [HAL] / [BIB] |
| 2006 | COM | Philippe Lours, Yuhong Qi, Yannick Le Maoult, Bernard Pieraggi. In situ and ex situ investigation of the spallation of thermally grown oxides. THERMEC 2006 - 5th International conference on processing & manufacturing of advanced materials, 539-543(1-5), p.1134+, Vancouver, CA | [HAL] / [BIB] / [DOI] |
| 2005 | COM | Emilie Herny, Philippe Lours, Jean Marc Cloue, Philippe Lagain, Simon Perusin, Eric Jourdain, Eric Andrieu. Local mechanical and microstructural characterization of electron beam welded 15-5PH stainless stell. Super-High Strength Steels, 11 p., Rome, IT | [HAL] / [BIB] |
| 2005 | ACL | Cy Gao, Philippe Lours, Gérard Bernhart. Thermomechanical stress analysis of superplastic forming tool. Journal of Materials Processing Technology, Elsevier, 169(2), p.281-291 | [HAL] / [BIB] / [DOI] |
| 2005 | COM | Arnaud Duchosal, Traian Branza, Cyril Bordreuil, Frédéric Deschaux Beaume, Philippe Lours, Gilles Fras. Macro-micro transition to model cracking phenomenas during multipasses welding processes. COMPLASS VIII -8th International conference on computational plasticity, 2, p.890-893, Barcelona, ES | [HAL] / [BIB] |
| 2005 | COM | Traian Branza, Arnaud Duchosal, Cyril Bordreuil, Frédéric Deschaux Beaume, Gilles Fras, Philippe Lours. Influence of the welding processing on weld repair quality of SPF tools. Euro SPF'05 -4th European Conference on Superplastic Forming, p.121-126, Manchester, GB | [HAL] / [BIB] |
| 2005 | COM | Yannick Le Maoult, Philippe Lours, Bernard Pieraggi. In situ investigation of the spallation of oxide scales grown on ODS alloy PM2000. 16th International Plansee seminar 2005, 1, p.958-972, Reutte, AT | [HAL] / [BIB] |
| 2005 | COM | Arnaud Duchosal, Traian Branza, Frederic Deschaux-Beaume, Cyril Bordreuil, Philippe Lours, Gilles Fras. Modélisation du comportement des aciers austénitiques pour la simulation numérique du soudage multipasse. 3ème Séminaire de la commission "Simulation Numérique du Soudage" de l'Association Française de Mécanique, Courbevoie, FR | [HAL] / [BIB] |
| 2005 | INV | Arnaud Duchosal, Traian Branza, Cyril Bordreuil, Frederic Deschaux-Beaume, Philippe Lours, Gilles Fras. Micro transition to model cracking phenomenas during multipasses welding processes. 8th International conference on computational plasticity COMPLASS VIII, 2, p.890-893, Barcelona, ES | [HAL] / [BIB] |
| 2005 | COM | Arnaud Duchosal, Traian Branza, Cyril Bordreuil, Frederic Deschaux-Beaume, Philippe Lours, Gilles Fras. Etude expérimentale et numérique du soudage-rechargement : prévision du risque de fissurations à froid d'un acier austénitique réfractaire. Séminaire Pluri-Formation ENISE, Saint Galmier, FR | [HAL] / [BIB] |
| 2005 | INV | Traian Branza, Arnaud Duchosal, Cyril Bordreuil, Frederic Deschaux-Beaume, Philippe Lours, Gilles Fras. Influence of the mechanical properties of filler materials on weld repair quality of SPF tools. 4th European Conference on Superplastic Forming Euro SFP05, p.121-126, Manchester, GB | [HAL] / [BIB] |
| 2004 | ACL | Traian Branza, Arnaud Duchosal, Gilles Fras, Frédéric Deschaux-Beaume, Philippe Lours. Experimental and numerical investigation of the weld repair of superplastic forming dies. Journal of Materials Processing Technology, Elsevier, 155(2, SI), p.1673-1680 | [HAL] / [BIB] / [DOI] |
| 2004 | COM | Cy Gao, Philippe Lours, Gérard Bernhart. Damages induced by thermomechanical cycles in superplastic forming tools. 7th Asia-Pacific symposium on engineering plasticity and its applications (AEPA2004), 274-276, p.93-98, ShangHai, CN | [HAL] / [BIB] / [DOI] |
| 2004 | COM | Traian Branza, Alexandre Martinier, Arnaud Duchosal, Frédéric Deschaux Beaume, Gérard Bernhart, Philippe Lours. Fatigue damage and weld repair of heat resistant cast steel SPF dies. Euro-SPF 2004 -3rd European conference on superplastic forming, p.133-138, Albi, FR | [HAL] / [BIB] |
| 2004 | COM | Gérard Bernhart, Thierry Cutard, Philippe Lours. Preface of the proceedings of Euro SPF 2004 : 3rd european conference on super plastic forming. Euro-SPF 2004 -3rd European conference on superplastic forming, 1 p., Albi, FR | [HAL] / [BIB] |
| 2004 | COM | Pascale Bruckel, Pascal Lamesle, Philippe Lours, Bernard Pieraggi. Isothermal oxidation behaviour of a hot-work tool steel. 6th International Symposium on High Temperature Corrosion and Protection of Materials, 461-464, p.831-838, Les Embiez, FR | [HAL] / [BIB] / [DOI] |
| 2004 | COM | Philippe Lours, Yannick Le Maoult, D Ade, Bernard Pieraggi. Direct examinations of oxide scales upon cooling: a new way to analyse oxide scale spallation. 6th International Symposium on High Temperature Corrosion and Protection of Materials, 461-464, p.639-646, Les Embiez, FR | [HAL] / [BIB] / [DOI] |
| 2004 | COM | Yannick Le Maoult, Philippe Lours, Didier Ade, Bernard Pieraggi. Etude dynamique de l'écaillage des oxydes de l'alliage PM2000 : apport d'une nouvelle technique de trajectographie. Colloque photomécanique 2004, p.369-376, Albi, FR | [HAL] / [BIB] |
| 2004 | ACL | François Delmas, Marie-José Casanove, Philippe Lours, Alain Couret, Armand Coujou. Quantitative TEM study of the precipitation microstructure in aluminium alloy Al(MgSiCu) 6056 T6. Materials Science and Engineering: A, Elsevier, 373(1-2), p.80-89 | [HAL] / [BIB] / [DOI] |
| 2004 | DO | Gérard Bernhart, Thierry Cutard, Philippe Lours. Euro SPF 2004 : third european conference on superplastic forming. 203 p., Albi, FR | [HAL] / [BIB] |
| 2004 | ACL | Yuhong Qi, Pascale Bruckel, Philippe Lours, Zhanping Zhang. Investigation of adhesion and fracture toughness of thermally grown oxide scales by interface indentation test. TRANSACTIONS OF MATERIALS AND HEAT TREATMENT, 25(5), p.1233-1236 | [HAL] / [BIB] |
| 2003 | COM | Philippe Lours, Hv Bui, A Nafi, O Mercier, Gérard Bernhart. Rapid tooling for injection moulding process. 3rd International Symposium on Designing, Processing and Properties of Advanced Engineering Materials, ISAEM-2003, 449-452, p.789-792, Jeju Island, KR | [HAL] / [BIB] / [DOI] |
| 2003 | COM | Huy Vinh Bui, Philippe Lours, Gérard Bernhart, Bruno Le Razer, Philippe Barq. Outillage rapide : nouvelle technologie de fabrication rapide par frittage de poudre -analyse technique et scientifique. Colloque de la poudre au matériau massif SF2M-GFC -Commission poudres et matériaux frittés Journées annuelles du RFM, p.359-364, Albi, FR | [HAL] / [BIB] |
| 2003 | COM | Pascale Bruckel, Pascal Lamesle, Philippe Lours, Bernard Pieraggi. XRD investigations on the oxides grown on hot work tool steels in H2O-containing atmospheres. Electrochemical Society Symposium on High-Temperature Corrosion and Materials Chemistry IV, 2003(16), p.135-146, Paris, FR | [HAL] / [BIB] |
| 2003 | COM | Huy Vinh Bui, Philippe Lours, Gérard Bernhart. Influence of porosity and anisotropy on the mechanical properties of direct laser sintered metal powder for injection moulding tools. 4th international conference on industrial tools, p.205-208, Bled, SI | [HAL] / [BIB] |
| 2003 | COM | Gérard Bernhart, F Nazaret, A Martinier, C Gao, D Garriga-Majo, Thierry Cutard, Philippe Lours. Design of SPF dies based on advanced material behaviour models. 8th International Conference on Superplasticity in Advanced Materials, 447-448, p.123-130, Oxford, GB | [HAL] / [BIB] / [DOI] |
| 2003 | ACL | Yuhong Qi, Pascale Bruckel, Philippe Lours. Interfacial toughness of the nickel-nickel oxide system. Journal of Materials Science Letters, Springer Verlag (Germany), 22(5), p.371-374 | [HAL] / [BIB] / [DOI] |
| 2003 | COM | Traian Branza, Gérard Bernhart, Philippe Lours, Frédéric Deschaux Beaume, V. Richefeu, Arnaud Duchosal, Gilles Fras. Rechargement T.I.G. d'outillages de formage superplastique -essais et simulation. Colloque national MECAMAT, 4 p., Aussois, FR | [HAL] / [BIB] |
| 2003 | DO | Jean-Claude Nièpce, Jean-Marc Chaix, Eric Gaffet, Michel Baron, John A. Dodds, Alain de Ryck, Alain Chamayou, Ange Nzihou, Didier Lecomte, Philippe Lours, Thierry Cutard, Gérard Bernhart, Rene David, Christophe Levaillant. De la poudre au matériau massif : colloque. Commission poudres et matériaux frittés SF2M-GFC - Journées annuelles du RFM, 381 p., Albi, FR | [HAL] / [BIB] |
| 2003 | ACL | François Delmas, Marie Vivas, Philippe Lours, Marie-José Casanove, Alain Couret, Armand Coujou. Straining mechanisms in aluminium alloy 6056. In-situ investigation by transmission electron microscopy. Materials Science and Engineering: A, Elsevier, 340(1-2), p.286-291 | [HAL] / [BIB] / [DOI] |
| 2003 | ACL | Pascale Bruckel, Philippe Lours, Pascal Lamesle, Bernard Pieraggi. In situ ESEM investigations of the oxide growth on hot work tools steel: effect of the water vapour. Materials at High Temperatures, Taylor and Francis, 20(4), p.551-560 | [HAL] / [BIB] / [DOI] |
| 2002 | ACL | Stéphane Baleix, Gérard Bernhart, Philippe Lours. Oxidation and oxide spallation of heat resistant cast steels for superplastic forming dies. Materials Science and Engineering: A, Elsevier, 327(2), p.155-166 | [HAL] / [BIB] / [DOI] |
| 2001 | ACL | Stéphane Baleix, Sabine Le Roux, Gérard Bernhart, Philippe Lours. Surface and image analysis of oxides grown and spalled on heat resistant cast steels exposed to thermal cycles. Journal of Materials Processing Technology, Elsevier, 118(1-3, SI), p.321-328 | [HAL] / [BIB] / [DOI] |
| 2001 | ACL | Philippe Lours, Sabine Le Roux, Gérard Bernhart. Oxidation behavior of creep resistant oxide-dispersion-strengthened alloy PM2000. Journal of Advanced Materials, 33(2), p. 11-20 | [HAL] / [BIB] |
| 2001 | ACL | Philippe Lours, Thierry Cutard, Gérard Bernhart, Christophe Levaillant. Performances of metallic and ceramic tools for superplastic forming. International Journal of Materials and Product Technology, Inderscience, p.445-452 | [HAL] / [BIB] |
| 2000 | COM | Stéphane Baleix, Gérard Bernhart, Philippe Lours. Investigation of the spallation of oxides grown on thermally cycled heat resistant cast steels. 5th International Symposium on High Temperature Corrosion and Protection of Materials, 369-372(1&2), p.539-546, Les Embiez, FR | [HAL] / [BIB] / [DOI] |
| 1999 | COM | Stéphane Baleix, Sabine Le Roux, Gérard Bernhart, Philippe Lours. Surface and image analysis of oxides grown and spalled on heat resistant cast steels exposed to thermal cycles. AMPT'99 -Advances in Materials and Processing Technologies, 2, p. 1175-1184, Dublin, IR | [HAL] / [BIB] |
| 1999 | COM | Yannick Le Maoult, Stéphane Baleix, Philippe Lours, Gérard Bernhart. Application industrielle de la thermographie infrarouge au comportement des outillages de formage superplastique. Journées GAMI du CETIM Les applications de la thermographie dans les industries mécaniques, 9 p., Senlis, FR | [HAL] / [BIB] |
| 1999 | COM | Stéphane Baleix, Yannick Le Maoult, S. Frenois, Yves Marcel, Philippe Lours, Gérard Bernhart. Simulation of service life cycle induced thermomechanical stresses in a superplastic forming tool. 3rd international congress on thermal stresses, p. 317-320, Krakow, PL | [HAL] / [BIB] |
| 1999 | COM | Stéphane Baleix, Philippe Lours, Gérard Bernhart. High Temperature Mechanical behaviour of Ni-Cr-Fe heat resistant cast steel. Eight international conference on mechanical behaviour of materials ICM 8, p.653-657, Victoria, CA | [HAL] / [BIB] |
| 1999 | ACL | Thierry Cutard, Emmanuel Cailleux, Philippe Lours, Gérard Bernhart. Structural and mechanical properties of a refractory concrete for superplastic forming tools. Industrial Ceramics, Ceramurgica, 19(2), p.100-102 | [HAL] / [BIB] |
| 1999 | COM | Gérard Bernhart, Philippe Lours, Farhad Rezai-Aria, Christophe Levaillant. Effet de la thermique transitoire sur l'endommagement des outillages dans les procédès de formage. Journée de la société française des thermiciens, 8 p., Paris, FR | [HAL] / [BIB] |
| 1998 | COM | Marie Vivas, Philippe Lours, Christophe Levaillant, Marie-José Casanove, Alain Couret, Armand Coujou. On the strengthening of aluminium alloy 6056T6. 6th international conference on aluminum alloys ICAA6, 2, p.943-948, Toyohashi, JP | [HAL] / [BIB] |
| 1998 | ACL | Philippe Lours, Joël Alexis, Gérard Bernhart. Oxidation resistance of ODS alloy PM2000 from 880°C to 1400°C. Journal of Materials Science Letters, Springer Verlag (Germany), 17(13), p.1089-1093 | [HAL] / [BIB] / [DOI] |
| 1997 | ACL | Marie Vivas, Philippe Lours, Christophe Levaillant, Alain Couret, Marie-José Casanove, Armand Coujou. Determination of precipitate strength in aluminium alloy 6056-T6 from transmission electron microscopy in situ straining data. Philosophical Magazine a, Informa UK (Taylor & Francis), 76(5), p.921-931 | [HAL] / [BIB] / [DOI] |
| 1997 | ACL | Marie Vivas, Philippe Lours, Christophe Levaillant, Alain Couret, Marie-José Casanove, Armand Coujou. Transmission electron microscopy study of precipitate morphology and precipitate overcoming processes in aluminum alloy 6056 T6. Materials Science and Engineering: A, Elsevier, 234, p.664-667 | [HAL] / [BIB] / [DOI] |
| 1997 | COM | Marie Vivas, Philippe Lours, Christophe Levaillant, Alain Couret, Marie-José Casanove, Armand Coujou. A microscopy study of precipitate distribution and precipitate overcoming processes in a aluminium alloy 6056 T6. 11th international conference on the strenght of metals and alloys ICSMA 11, 2p., Prague, CZ | [HAL] / [BIB] |
| 1997 | COM | Philippe Lours, Joël Alexis, Gérard Bernhart. High temperature oxidation behaviour and creep properties of ods alloy PM2000. 14th international plansee seminar, 1, p.869-886, Reutte, AT | [HAL] / [BIB] |
| 1996 | COM | Marie Vivas, Philippe Lours, Christophe Levaillant, Alain Couret, Marie-José Casanove, Armand Coujou. Some aspects of precipitation hardening in aluminum alloy 6056 T6 - TEM experiments. 5ème conférence internationale sur les alliages d'aluminium, 217-222, p.1305-1310, Grenoble, FR | [HAL] / [BIB] / [DOI] |